Online pokies rule in Australia. It's no surprise that Australians love to gamble. As a matter of fact, they are the most prolific of gamblers in any country, per capita. Whether its gambling on their favorite computer device or land-based casino, they love to wager. But what makes gambling in Australia so attractive is that any winnings (profit) are not taxable as it is in most other countries such as the United States and UK. The authorities view these profits as "luck" and not "earnings" and leave the winner to keep all of the winnings. Of all the gambling option offered to the Aussies their most loved game are the Pokies (Slots) which they love to play both online and at land-based casinos.
History of the pokie machine
If you travel to Australia or live there, then you will understand how deep the obsession for Pokies / Online Slots around the country goes. There are so many that they are estimated to have one machine for every 100 individuals. At the time of this article the average Australian spends approximately AU$400 annually on Pokie games. Not sure if this is for land-based or online, but either way it's a very large amount.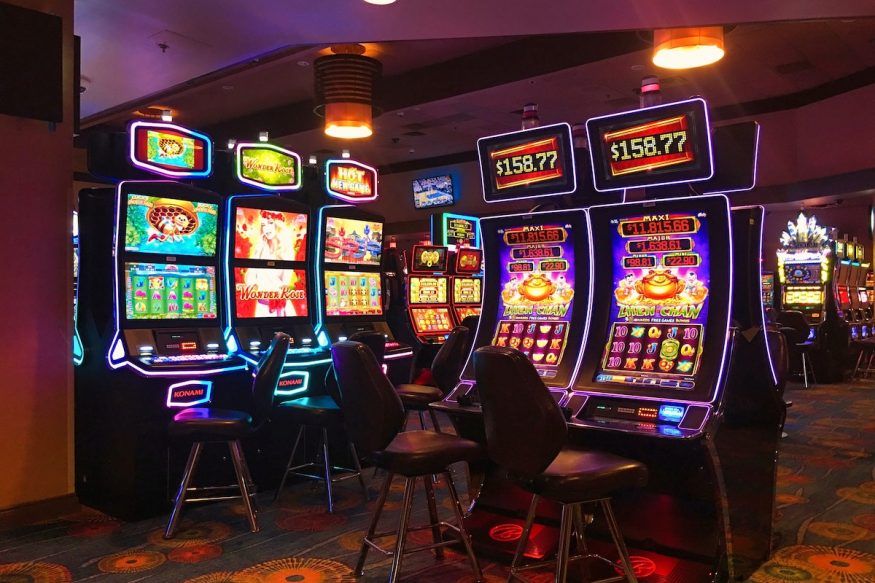 One must remember that prior to the late 90s there were no online casinos as there are now. As a matter of fact, up until the last 20 years the online gaming experience online was pretty basic and pedestrian. The 3-reeled fruit slot was the hot game and options for a quality video slot still not attainable with the current technology. These 3-reeled pokies have obviously been superseded with online video slots as well as land-based slots all of which are more akin to the most recent video game.
The original idea of the infamous one-armed bandit by Charles Fey was to replicate a 5-card poker game with a winning hand. So, for instance if you received 5 of the same reels then you will have the "winning hand". With New York as its starting point the machine gained popularity in that state and throughout the country. The presentation and medium in which it is now presented has evolved tremendously but the basic idea of reels, spins and winning lines still harken back to the original machine.
Up until the mid 1950s the Pokie machine remained true to its original design and functionality. Lines and symbols were added but it still maintained its basic technology of wheels, reels, drums and metal innards. It wasn't too complicated which made it susceptible to manipulation by both players and the house. During this time the company Aristocrat was involved in the industry and was one of the main leaders in getting gambling legalized in New South Wales, Australia.
Aussie pokies developed at a rapid speed
It wasn't until the 1980s that there was a revolutionary transformation in the Pokie industry. Apart from some advances there was never anything that could really distinguish the machines from 100 years ago. The advance that created this revolution was the introduction of the video slot machines. Instead of the usual gears and drums came the video screen which was based on advanced computer technology. No longer were there fixed reels and the ubiquitous one-armed bandit but buttons which would spin the "reels" on the screen.
These land-based hard Pokies were years ahead of the previous iterations and provided endless options for creating new games with specific themes thereby enhancing the experience markedly. Although not up to the standards of today these machines were leaps and bounds above the previous generation and brought these machines into the technological age. With the huge leaps in technology (computing power and graphics) the Pokies continued to get better and better while improving the experience with players. Unfortunately, the odds continued to be in the favor of the House, and you were still going to lose if you played long enough.
These technologies eventually found themselves connected at the hip with the Internet and created a whole new medium as which to play these games. Whether you call them Slots or Pokies the Internet created a culture which could have never been imagined 25 years ago. If you were at the forefront of these online games, then you were the equivalent to the original Roughnecks of the early years who ventured out on their own and struck it rich with Black Gold or Texas Tea.
What is an Aussie Online Pokie?
In simplest terms these are the Pokie/Slot games which you play online. These can be played on your PC, Laptop, Mac, Tablet, Smartphone, and all other computer devices. These casino games have been around since the inception of the Internet. While new and revolutionary these casino games paled in comparison to what you see today. The best analogy I can come up with is the quality improvement of games such as PlayStation, Flight Simulators, Call of Duty, Grand Theft Auto series, etc. These games are leaps and bounds above the initial games 20 years ago and are just getting better.
The early online Pokies were a pretty simple setup which mirrored many of the land-based games. Usually with 3-5 reels, basic bonuses, and a few wilds, these games were popular because you could play them in the privacy of your own home without going to a casino. They were much better than any type of game married to a specific device and constantly improved. Although these were on your computer screen the originals could not be considered true video slots.
The Video Slots / Pokies came a bit later when the connectivity to the Internet improved with speeds increasing. Remember, all of these live games were dependent on how fast you could download all the features and play as if you were at a real casino. It wasn't until wireless and the advancement beyond dial-up Internet were these games able to improve to the level of land-based casinos and beyond.
The next step was the introduction of 3D pokies, which are not exactly 3D but for some reason were given that name. This are the most interactive of Pokies and provide a myriad of ways to win money. Although there are more ways to win the odds are still in line with the average for any pokies both land-based and online. Regardless these are the games you want to play if you are looking for awesome graphics, bonuses, promotions, tournaments, and every feature of your favorite land-based Pokie. From themes such as Movies, TV, Cartoons, Holidays, Countries, etc., there will always be a game to play.
How to Safely Play Online Pokies in Australia
As with any online endeavor it is essential to know all the rules and regulations of each casino site where to decide to play. Many of these are specific to each country which are also constantly changing. There are loads of information online to separate the quality sites from the fly by night sites which are all too common. Shop around and do your due diligence about these online casinos. There are lot of issues to look at when first starting to gamble online and you should feel comfortable with the casino.
Two of the most common include real money play and banking. Although most of these casinos prove free play, you'll most likely end up playing for real money. Taking this into account it is incumbent on you to read the reviews on the casino and if they pay in a timely manner and if they pay at all. Most of the negative reviews about these Australian online casinos as well as all other online casinos are about not getting the money owed to the players.
Another issue which is very important for real money players are the banking methods (deposits and withdrawals). With the many countries trying to clamp down on online gambling there are always new rules and regulations concerning the transfer of funds. Whether its traditional payments such as Visa, MasterCard, and American Express or Cryptocurrency such as Bitcoin, Ethereum, etc., there always seems to be some new regulation to contend with. During your reviews of casinos be sure that they except your preferable form of payment (recent trends favour Neosurf, POLi as well) and all of the regulations and restrictions that follow.
Steps for Playing Pokies at an Online Casino
Register / Make Deposit
This is usually simple and straightforward. You'll be required to fill out a form asking the relevant questions and you'll be a registered player. Some casinos might require a deposit to sign-up while others might only require a small deposit if you play for real money. If you move forward with playing for money you will then be asked to provide your banking details for both deposits and withdrawals. Be careful when doing this as making a deposit is a lot easier then withdrawing your winnings. Casinos along with your banking method have restrictions in how much you can withdraw at once and over time.
Play your Pokie of Choice – Free pokies with no deposit bonus
Once your signed up and have made a deposit then you are ready to Rock n' Roll. As a beginner I would suggest that you play in free demo mode before you start putting money down. With hundreds of Pokies, it will take a while to pick one that you will want to spend money on and hopefully win. Some casinos have one or two developers while others have over 20. Not all games are the same and you just need to find your niche.
The casinos also provide bonuses and promotions with many offering a rewards/points program for how much you play. The more you play and spend, the more extra bonuses you will receive. All of these can be accessed with real money play as are many of the fixed and progressive jackpots. Free play has its limits and to access all the features you must open your wallet. As mentioned above there are many payment methods to choose from although not all are created equal. Take your time and see what works best for you as terms and conditions for these methods according to the country which you are playing.
Conclusions on online pokies real money
Online casinos are in Australia such as Fairgo, Wolf Winner, Uptown Pokies or King Billy can provide even the finicky of players opportunities to enjoy themselves with real money play. Fair Go has an international reputation has being one of the top online casinos to play. Although Australia has sometimes made it difficult for online gamblers to play their games there is no reason to think that this will not be an option in the future. Land-based casinos (pokie places near me where you can play hard pokies) and sports gambling are part of the Australia culture which enjoys wagering a few dollars or two. Australian online casinos provide another outlet for fulfilling the needs of those down under. If you have never gambled online, you should give it a try. If you're a long-time gambler, then keep enjoying all of your exciting options. And please remember that all of your winnings are not subject to taxation in Australia.