Canadians love to gamble and take winning and losing very seriously. You might not be able to picture those North of the Border as diehards but trust me, they are. Unfortunately, the past few years have proven to be very trying and challenging for those looking to visit their favorite land-based casino. As a matter of fact, it's been difficult for everyone in the world and not just the gamblers: they had the option to turn to Canadian online casinos for gaming experience.
Thankfully the restrictions have lifted and have presented Canadian players, as well as those from the US, with the opportunity to leave their screens, tablets, and mobile devices for the real thing. Canada offers some quality casinos and entertainment venues which are enjoyable locations for most people and some families.
What do Brantford and Fallsview Casino offer to its Patrons?
Elements Casino Brantford is located about 70 miles from Toronto consisting of about an hour and a half drive. It's about the same distance from Niagara Falls making it accessible from Buffalo NY as well.
Considered a "Boutique Casino", Elements offers its players and visitors a personal experience which gets lost in many of those mega casinos in Vegas and elsewhere. Small and cozy with an inviting ambiance, Elements offers the right touch for the people of the area as well as those making a trek from elsewhere, such as Toronto.
The world class casino would be top-notch with just the slots / pokies but does not rely on only those popular one-armed bandits. Brantford also offers Poker Rooms, Table Games, and E-Tables. The E-Tables are 17 personal machines, similar to slot machines, which enable players to experience their favorite table games on their own personal terminals. No need to belly up to the large intimidating tables with a bunch of strangers. Baccarat, Blackjack, Roulette, and Sic-Bo are the table games which are on offer for those who like to keep gambling a personal experience.
Casinos near Niagara Falls
For those who are new to the casino as well as those who are frequent guests there is the Elements Rewards Program to gain the most out of your visits. Red, Blue, Gold, and Elite are the 4 categories of rewards with Red being the first and Elite being……well the Elite! For the generous benefits of each card go to the Elements website and click on the "Elements Rewards" menu.
In Niagara Falls, both the Canadian and American sides offer various options for gambling:
Casinos: There are several casinos located near Niagara Falls, including Casino Niagara, Fallsview Casino Resort, and Seneca Niagara Resort & Casino. These casinos offer a variety of games such as slots, table games, and poker, in addition to dining, entertainment, and hotel options.
Horse Racing: There is a horse racing track in Fort Erie, Ontario, called Fort Erie Race Track, where patrons can bet on live horse racing events.
Lotteries: Both the Canadian and American sides of Niagara Falls offer lottery options, including instant games and draw-based games such as Powerball and Mega Millions.
Sports Betting: Sports betting is legal and regulated in both Canada and the United States, and there are various options for betting on sports events both in-person and online.
Bingo Halls: There are several bingo halls in the Niagara Falls area that offer patrons the opportunity to play and win prizes.
Overall, Niagara Falls offers a wide range of gambling options for patrons, including traditional casino games, horse racing, lotteries, sports betting, and bingo.
There are several casinos located near Niagara Falls, Ontario, Canada:
Casino Niagara – This casino offers 95,000 sq. feet of gaming space, with over 1,300 slot machines and 40 gaming tables.
Fallsview Casino Resort – This casino is located on the Clifton Hill tourist district and offers 200,000 sq. feet of gaming space, with over 3,000 slot machines and 130 gaming tables.
Seneca Niagara Resort & Casino – This casino is located on the American side of Niagara Falls and offers 147,000 sq. feet of gaming space, with over 3,300 slot machines and 100 gaming tables.
All of these casinos offer a variety of games such as blackjack, roulette, baccarat, and poker, in addition to restaurants, hotels, and entertainment options.
In the center of the Niagara Tourism region, Casino Niagara is a never-ending source of maximum excitement. Casino Niagara is Just Plain More Fun because it offers the hottest gaming activity with over 1,400 slot machines, 40 gaming tables, and a poker room!
After a few hours are the machines or tables, take a trip to the Getaway Restaurant for some grub. With a selection of appetizers, burgers, sandwiches, as well as some great entrees such as ribs, chicken, and pasta. It's a good way to recharge for the next round of gameplay or a perfect ending to a great day at the casino.
Elements Casino Brantford is a great destination in a friendly and down-home Canadian city. Although not Vegas it does provide an exciting environment for those looking to get out and enjoy the good life.
Niagara Fallsview Casino Resort Canada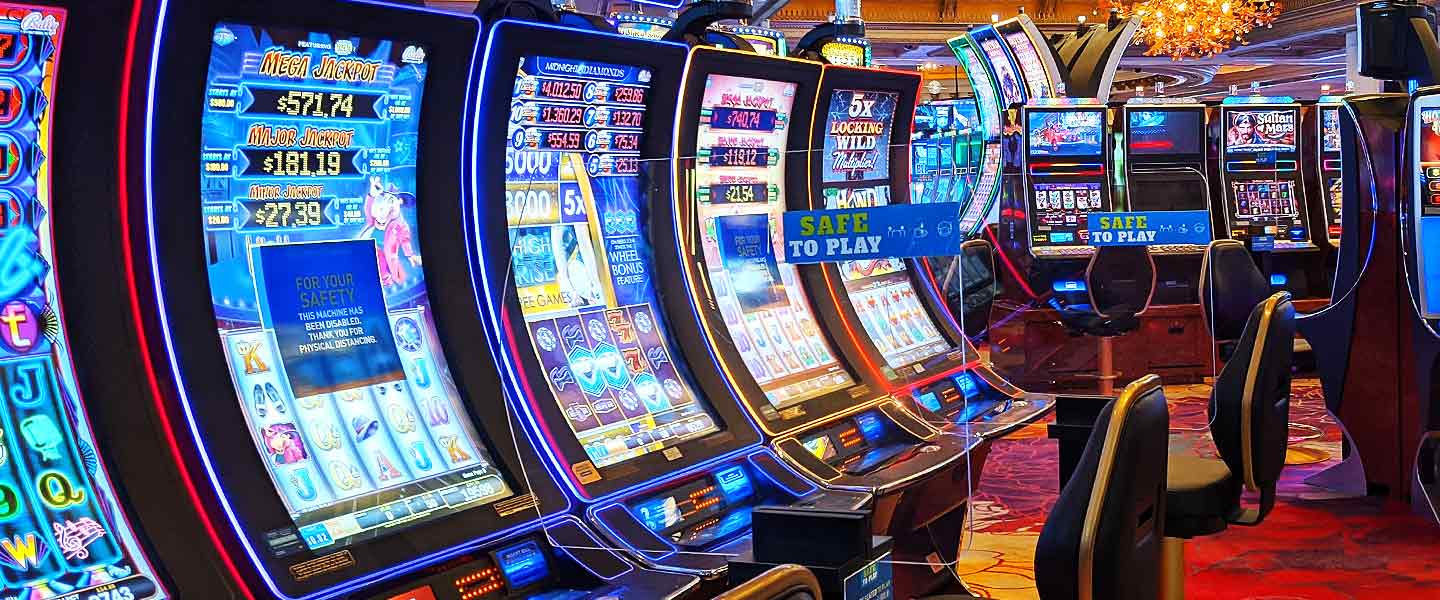 As step above Elements Casino, Fallsview is an all-inclusive casino resort located at Niagara Falls on the Canadian side. With a Casino, Hotel, Restaurants, Theatre, Golf, Spa, and Wineries, Fallsview ticks all the boxes for that immersive experience.
The reputable land-based casino Fallsview casino resort in Niagara Falls has an online presence called Play Fallsview casino Ontario. The online casino, which was built on decades of industry experience, serves to gamers who appreciate privacy and comfort.
The largest and most elegant gaming resort facility in Canada, Fallsview Casino Resort is built on a rock overlooking the world famous Horseshoe Falls.
Learn all the specifics in our assessment of the Play Fallsview online casino, which was graded by a casino specialist based on a variety of objective factors, including as the games, software, usability of the mobile app, casino exclusives, and more.
How to get there? Directions to Fallsview Casino
Due to its convenient location, Fallsview Casino is accessible from the Greater Toronto Area, Hamilton, Southern Ontario, and New York State. The casino, which can be found at 6380 Fallsview Boulevard, dominates the skyline and is always simple to find.
Take the Rainbow Bridge into Canada if you are coming from the US, then continue Highway 420 until it becomes Robert Street before turning left into Stanley Street. Turn right onto Fallsview Blvd Niagara Falls after making a left turn onto Murray St. until you arrive at the casino.
Requirements for entry to Niagara Fallsview Casino
Fallsview Casino does not have a formal dress code, however you must wear a shirt and shoes. All guests must be at least 19 years old and, upon request, produce acceptable government identification. Bring two forms of identification to avoid the disappointment of being turned away for appearing too young. It is not allowed for anybody to enter the premises or take part in competitions or promotions if they are restricted from attending Ontario gaming sites.
Casino Room and Players' options
Starting with the Casino, which is usually the main attraction, there are Slots, Table Games (Roulette, Blackjack and Baccarat), and Poker. Along with these there are tournaments and promotions to provide players with a different experience. But with over 3,000 slots and 130 Table Games there seems to be plenty of opportunity to make money with the usual casino games.
The Momentum promotion levels are where the new players as well as those faithful players can earn extras just for playing their favorite games. Core, Ignite, Leap, Ascend, and Soar are the 5 levels which can improve the whole player experience. With Core being the most basic for beginners and Soar the most exclusive, there is a wide range of benefits for each level as each one provides more and more. Visit the Fallsview Hotel homepage and click on the "momentum" menu bar on the left to see what each of the 5 levels offer.
Land-based casinos often expand into online platforms for several reasons:
Increased Reach: Online casinos allow operators to reach a wider audience, including customers who may not be able to physically visit the land-based casino.
Convenience: Online casinos offer customers the convenience of being able to play from anywhere and at any time, without having to travel to a physical location.
Diversification: By offering both land-based and online options, casinos can diversify their business and reduce their dependence on physical foot traffic.
Increased Revenue: Online casinos provide an additional source of revenue for operators and can help to offset any losses that may occur at the land-based casino.
Data Analytics: Online casinos generate a vast amount of data that can be used to inform business decisions and improve the customer experience.
Overall, the integration of online platforms into the land-based casino business model can help operators to grow their customer base, increase revenue, and enhance the overall customer experience.
Fallsview Casino Login? Sure, it went online in 2021
Early in 2021, the casino launched online in the US, allowing players in some jurisdictions to sign up and access mobile and desktop slots and table games. And now it is aiming to spread further north.
Fallsview is a straightforward online casino that provides players with a selection of online slots and a ton of table games. Along with blackjack, roulette, and poker played against the computer, it also provides a few live dealer games.
250+ games to play online at Fallsview Casino
For Canadian gamblers and bettors, Fallsview Casino features a respectable assortment of games. The operator's lobby has 249 titles, which is a touch fewer than the average for the Canadian gambling market (300–500). These, however, cover a variety of genres and subjects.
The majority of the options at this betting site, or about 66% of them, are slots. The operator offers 165 slots of various kinds, including classic and branded games.
But in addition to slots, it offers a respectable selection of table games with noteworthy features. There are 17 blackjack titles, 6 baccarat titles, and 10 roulette titles available to bettors in Canada.
Deposit and withdrawal options aka payment methods
Fallsview Casino offers five methods for Canadian bettors to use to deposit money and withdraw profits. These include Prepaid Cards, Bank Transfers, Visa, Mastercard, Interac e-Transfer, and Visa.
However, take aware that while practically all gift cards, including those purchased on Neosurf, can be used to fund your account, business credit cards are not accepted for transactions.
For the majority of the possibilities offered at this online betting site, processing time could be instantaneous. Additionally, there is no processing cost for deposit transactions with the operator.
Entertainment at the Niagara Fallsview Casino Resort
As a Resort, Fallsview seems to excel at providing some great comforts and activities for those who want to relax after gambling or for those looking for something completely different. With a Spa that can relax any time of the day and a Golf course for those looking to enjoy some time outside, it's a great way to change up the usual routine. With the Hotel being part of the whole Resort experience, you will only have a short walk for a midday nap or deep night's sleep.
With Paul Anka, Sheena Easton, and Pat Benatar on the calendar it seems that Fallsview is right up there with some of the other premier entertainment venues. Acts such as these are more on the level of Las Vegas. As for the Restaurants and other Dining options, you will have plenty to choose from with the 20 onsite locations to tastes.
Golf courses at Niagara Falls – Fallsview
Speaking of Vegas there are 45 Golf Courses which are within a 30-minute drive from the resort. These courses include Legends on the Niagara, Peninsula Lakes, The Grand Niagara Golf Club, Thundering Waters, and Whirlpool Golf Course.
Wineries for wine tasters near Niagara Falls
The Wineries top the selection of Golf Courses with over 100 of these within a 30-minute drive. Not sure how you fit so many into one small area, but Canada has seemed to have done it right. Some of these wineries include Inniskillin Wines, Jackson-Triggs Niagara Estate Winery, Peller Estates, Ravine Winery, Trius Winery at Hillebrand, and Two Sister Vineyard. If you can't find a wine you like out these, then you might as well hang up your drinking hat!
Fallsview Casino Resort has everything a full fledge resort of the highest caliber can offer. Unlike Brantford, which is a small casino with a special niche, Fallsview leaves nothing to be desired. After the restrictions of Covid and the endless mandates, the land-based casino industry is back again. Instead of hunkering down on your computer or laptop near a indoor pool, there are plenty of options such as these two casinos to enjoy your gambling play.