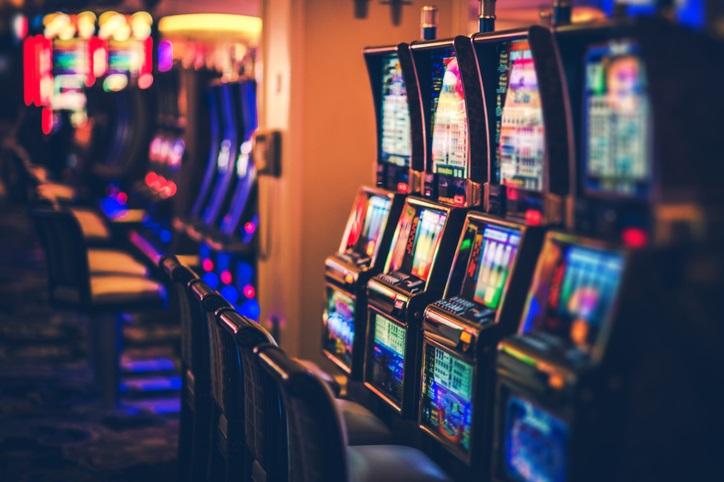 Canadian gamblers love their land-based casinos along with online play. Although there is no doubt that online casino play is dominating the industry those North of the Border still enjoy sliding up to a machine or bellying up to a table for a more social experience. It's human nature and I doubt that these casinos will ever go out of style. By this time you might not want to ask the question when will xyz casino reopen as land-based casinos are fully open to Canadian players.
Should you want to play slots online…
With its enormous size and some sparsely populated areas, finding a casino, especially one to your liking, can be a bit of a challenge. Unlike a Starbucks or McDonalds which are ubiquitous all over the world, land-based casinos can sometimes be hard to find. Unfortunately, many of them are concentrated in populated areas such as cities or large suburbs like Montreal, Vancouver, Toronto. If there are casinos in low populated areas, they are usually somewhat small in size but in some cases offer great entertainment and gambling options.
We can easily search on our smartphones for establishments "near me" which make it very simple to find anything from food, drinks, entertainment, clubs, shopping, etc. With casinos we have a lot less options and need to usually plan before we head somewhere. In this article we will list the Top 5 Canadian Land-Based Casinos and hopefully one of these will be "near me". If not, then you can read the reviews and plan a trip to these top-notch destinations or a place not on the list.
Top 5 Land-based Casinos open now: our pick of the best
These casinos will not be in any particular order but should encompass a wide variety of offerings for players. Here is the Top 5 list which is followed by a review of each casino and what is on offer. There are of course many other land-based casinos in Canada which are available to Canadians throughout the country.
CASINO NIAGARA (Niagara Falls, ON)
HARD ROCK CASINO VANCOUVER (Coquitlam, BC)
CAESERS WINDSOR HOTEL AND CASINO (Windsor, ON)
CASINO DE MONTREAL (Montreal, QC)
EUGENE GOLF RESORT CASINO (Cranbrook, BC)
CASINO NIAGRA – NIAGARA FALLS
Who doesn't know about Niagara Falls? Previously a honeymoon destination for the romantic types, technology and the ease of jumping on a plane has made it more a one or two day trip. This is unless you've decided to drive there from either Canada or the US and want to have a bit of a vacation at the Casino Niagara, one of Canada's largest and fun filled destinations.
The central location makes it easy to get to whether by auto, train, or plane. Besides the casino you have the popular Niagara Falls destination with many other activities part of the area.
Casino Niagara is a very large establishment with the Casino approximately 8,800 sq. meters (95,000 sq. ft.). This is not your local slot room and can accommodate many games, machines, and much else. Currently there are approximately 1300 slot machines available as well as 40 table games which includes Poker. This table games consist of Roulette, Blackjack, Craps, and a few others. And with 26 Poker Tables you'll be hard pressed to not find anything you'd enjoy playing.
If you have a hankering for some food and drinks, then head to the 3 restaurants and 2 bars that on the premises. Not having to leave the facility makes this destination a place where you ca hang your hat and enjoy yourself while making some money.
HARD ROCK CASINO VANCOUVER
Unless you've been living under a rock (no pun intended) then you should be familiar with the Hard Rock name. Established in London in 1971 the Hard Rock Café's reputation quickly spread as a place to go and enjoy some food, drinks, and excitement. With locations around the world, it was a natural evolution for this name and establishment to transition to casinos. With 180 café locations, 24 hotels, and 11 casinos, it's no wonder these are some of the most popular destinations for the younger crowds.
With 7,400 sq. meters (80,000 sq. ft.) of gaming space and The Molson Canadian Theatre, (1,000-person capacity) it's no wonder this casino established in 2001 is still running strong after 21 years. Although a family would still enjoy themselves here most Hard Rock Casinos have a bit of a younger crazier vibe especially by the pool in places such as Las Vegas. With the Hard Rock Café, the original trend setter, don't forget about the restaurants offered at this establishment. They include Asylum, Fú Express, Chip's Sandwich Shop, Roadies' Burger Bar, and the Salsa Shack.
The Casino boosts over 950 slots, 90 table games, a room specifically dedicated to Poker (Texas Hold 'em, Find Four Card Poker) and others. The Casino is a place where you can enjoy yourself in style and comfort while sitting at your favorite table such as Blackjack, Baccarat, Roulette, and others. If you're planning to spend more than a few dollars, then join the Encore Rewards program. As with a rewards program the more you play the more benefits you receive.
The Hard Rock name is well known throughout most of the world and with its experience and history provides its customers a top-notch experience. Pair this with the stunning Vancouver location and you have a recipe for an awesome destination.
CAESARS WINDSOR HOTEL AND CASINO
If there is one casino name that is the most recognized it has to be Caesars. If you asked 100 people to name a casino, I guarantee Caesars would be the most popular of names. Located just on the US-Canada border on the Detroit River the location provides an excellent view of the Motor City. Opened in 1994 Caesars Windsor is a perfect destination for those on both sides of the border who would rather take a short drive then a long flight to Caesars in Vegas.
Both the Forum and Augustus Hotels provide a place to stay if this is more than a one-day trip. With 23 and 27 floors respectively, there is plenty of room for your entourage to whip it up for a few day. There is a whopping 9,290 sq. meters (100,000 sq. ft.) of gaming space which should provide ample room to find your favorite slot or table games. The 5,000 seat Colosseum theatre provides the proverbial cherry on top to see some great shows.
Filled with 2,230 slots machines, 85 table games (Blackjack, Roulette, and Craps), and a poker room there will never be a time during your visit that you will not be able to find something to exhilarate the senses. There is also a sports book for those who would rather forgo the one-armed bandits and focus on their favorite sports team.
Don't worry about finding a place to eat as there are a wide range of options for food and drinks. The restaurants available on the premises are Café 377, Nero's Steak House, Market Buffet, Legends Sports Bar, Johnny Rockets, Spago Trattoria, and of course Tim Hortons a Canadian staple. After a nice sit-down dinner head out and enjoy a bit of nightlife with a few friends or meet new ones. These entertainment venues include Ariius Nightclub, Bacchus Bar, Cosmos, Laurel Lounge, The House Lounge, and Vu Lounge. If you're not for partying, then you can always do a bit of shopping and spend your winnings on yourself.
CASINO DE MONTREAL
Located in the French speaking city of Montreal, Casino de Montréal is a pleasant venue for those looking for something a bit novel. As the largest Casino in Canada, you'll be somewhat overwhelmed, in a pleasant way, by the sheer scale of this entertainment destination. Located across Montreal's Old Port the casino is in a perfect spot for visitors and gusts alike.
This casino is huge and is spread out of 3 buildings two of which are from the Expo 67, hence the name of the baseball team Montreal Expos. The total casino space is 526,000 sq ft (48,900 sq. meters) which to give you a better perspective is 12.1 acres or 4.89 hectares. If you cleared out all of the casino games, you could have a bunch of playing fields for a variety of sporting events.
The huge space can provide many casino games with slots taking up the most space in this venue. Casino de Montréal or Montreal Casino has approximately 3,200 slot machines on the casino floor. This staggering amount will provide any beginner or expert slot player a lifetime of excitement and winnings. To put it into perspective, if you played 5 different slot games every day it would take you 640 days to get through them all. And this does not include the addition of any new slots!
Fortunately for those who are not fans of slot games there is plenty of gaming excitement elsewhere on the casino floor. There are 115 table games which include Baccarat, Blackjack, Poker, Roulette, and War. There is also Keno, Speed Lotteries, and Virtual Games. If you're not into the casino experience there are four restaurants, three bars, as well as a Cabaret. The casino is also home to many events throughout the year which can provide entertainment and fun for the whole family. If you have to go to one land-based casino in Canada, then Montreal Casino is the place.
EUGENE GOLF RESORT CASINO
St. Eugene is a different type of casino as its focus is less on just gambling but more on the whole resort/vacation experience. As the name implies the Golf and Resort experience are also a major part of what can be experienced. This resort is nestled in a beautiful part of British Columbia and will entice you into staying out of the casino and back into nature.
Geared more towards the crowd who want to play a round of golf and then enjoy the casino a bit later this destination is all about the whole experience and not just the gambling. The casino experience is nowhere near what you have at the aforementioned Montreal Casino, although that is not the intention.
The Les Furber Golf Course offers fantastic views of the topography located between the Rockies and Purcell Mountains. The casino has 210 slot machines with E-Roulette, E-Baccarat, and E-Blackjack as well as 4 table games. The 3-Diamond The Eugene Hotel has a total of 125 rooms and suites. Topping this off are 2 restaurants, a bar, and a spa.
Land-based casino listings – Ratings and hours on the map
Conclusion: how to find a gambling place nearby
If none of these top casinos are "near you" or "near me" then take a look at some of the other casinos spread throughout Canada. It is a very large country and sometimes finding that right spot might sometimes be difficult.
Further casino recommendation to play slots
What are the best casinos in Canada in 2022? Check out our top 10 list below:
Niagara Fallsview Casino Resort
Casino de Montreal
Club Regent Casino
Casino Regina
Casino de Mont-Tremblant
River Rock Casino Resort
Edgewater Casino
Casino Rama
Casino Lac-Leamy
But if you're in a jam and have the urge to gamble then you can always go online and play at some of the top online casinos available to Canadians.